SELANGOR state PAS secretary Roslan Shahir Mohd Shahir has rapped DAP for inciting racial politics by pitting between Muslims and non-Muslims with their insensitivity.
This comes about after the adoptive father of the non-Muslim woman trader who was recently summoned by the Kota Bahru Municipal Council (MPKB) for indecent dressing has come forward to settle the matter amicably by paying a RM50 compound on 28 June last on behalf of his adopted child.
"Mr Sunny See Yeap Seng (main pic, left) – a coffee shop operator in Kota Bahru – said he paid the compound willingly after being satisfied with the explanation given by MPKB when he went to their office," Roslan pointed out while referring to a newspaper article in The Star entitled "Call to Cut the Story Short".
"The settlement is not by means of cancelling the summons as proposed by the DAP minister."
Recall that last Saturday (July 1), Local Government Development Minister Nga Kor Ming had stated that MPKB has agreed to withdraw the suit against the woman.
"Is this minister right? Mr See said he was satisfied and had already paid the summons while the minister claimed that the summons had been withdrawn," Roslan hit out.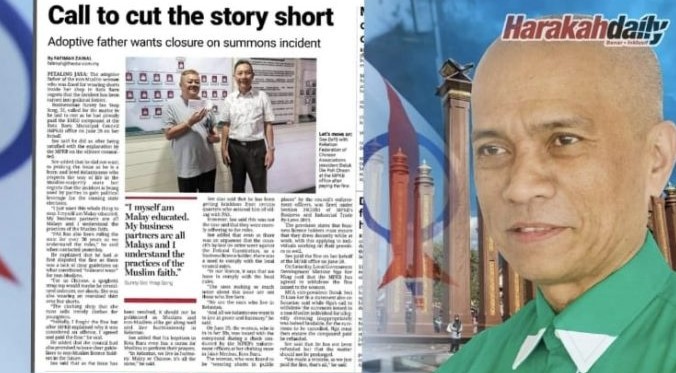 "Enough with racial politics that pit Muslims and non-Muslims against each other. The Kelantanese are more intelligent and good at managing their own affairs than the DAP minister who is only good at inciting and making noise.
"Well done, Mr See. Hopefully everyone can emulate your good attitude."
For the record, See, 51, has called for the matter to be laid to rest as he is a born and bred Kelantanese who respects the way of life in the Muslim-majority state but regrets that the incident is being used by certain quarters to gain political leverage in the upcoming state elections.
"I just want this whole thing to stop. I am Malay educated myself. My business partners are all Malays and I understand the practices of the Muslim faith," he told The Star. "PAS has also been ruling the state for over 30 years so we understand the rules."
Although he has been getting brickbats from certain quarters who accused him of siding with PAS, See justified that even if the council's by-law on attire went against the Federal Constitution, there was a need to comply with local council rules as a business licence holder.
"In our licence, it says that we have to comply with the local rules. The ones making so much noise about this issue are not those who live here," he explained. "We are the ones who live in Kelantan. And all we Kelantanese want is to live in peace and harmony." – July 4, 2023
Main pic credit: The Star