YESTERDAY, the Deputy Women, Family and Community Development Minister Siti Zailah Mohd Yusoff courted brickbats after releasing some "tips" on how married couples can help each other.  
Among the advice given was for women to use soft approach to reprimand their husbands, while husbands should use "gentle physical touch" if their wives are stubborn.  
"Speak to your husbands when they are calm, finished eating, have prayed and are relaxed. When we want to speak, ask for permission first," she added. 
However, the PAS leader said when it comes to reprimanding wives, husbands can use "gentle physical touch" to do so.  
"Use physical touch that is gentle, that educate and is full of love, but does not cause hurt, but shows how stern we are in wanting to change their behaviour," Malaysiakini reported her as saying.  
While Siti Zailah invited brickbats for making such suggestions including from Permatang Pauh MP Nurul Izzah Anwar, Segambut MP Hannah Yeoh was reprimanded for merely asking Women, Family and Community Development Minister Datuk Seri Rina Mohd Harun whether she agreed with the former's suggestions.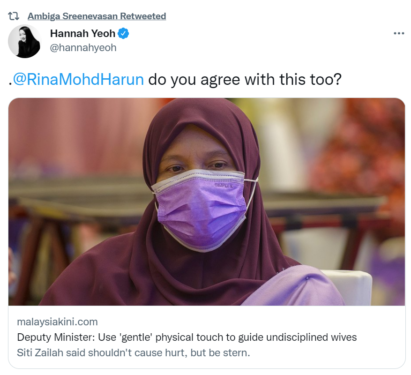 Imbeciles at helm  
"YB hannah, i think this time it's not fair la to disagree with yb kak lah…what she said is true," said user Jj Maktan.  

Echoing JJ Maktan's sentiments, user Shahiza added: 

Netizen Danish Yves Croissant retorted: "What's your problems? Wife and family is religious matter. Your interpretation of Bible don't count here."  

However, several netizens lashed out at Siti Zailah for making such suggestions saying Malaysia was in peril due to dim-witted leaders like her.  
"Ugh! What did we do to deserve her," asked user Tini Z. 

User SST remarked: "Idiots from PAS at helm, soon we can be the largest fishing village in south east asia." – Feb 13, 2022.