ALTHOUGH Malaysian tertiary learning institutions perform exceptionally in the QS Quacquarelli Symonds (QS) indicators related to internationalisation, it experiences challenges in producing skilled and work-ready graduates.
The country experiences challenges in upskilling its students and preparing them for employment in which Universiti Malaya (UM) (ranked 286th) is the only university among the top 400.
This is according to the QS employment outcomes which assesses graduate employment rates and career prospects in the 20th anniversary edition of the world's most-consulted international university rankings by the global higher education specialists.
Inaugurated in 2004, the QS World University Rankings portfolio is the world's most popular source of comparative data about university performance.
"With its strong performance in international student ratio and a highly diverse faculty and student body, Malaysia's universities offer a vibrant and inclusive learning environment," QS senior vice president Ben Sowter pointed out in a media brief of its 2024 QS World University Rankings.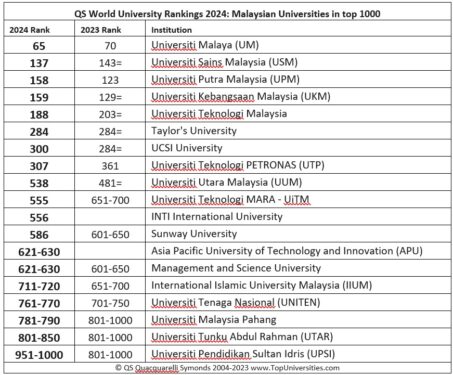 "However, its challenges lie in bridging the gap between academia and industry as the country faces hurdles in producing work-ready graduates. A focus on experiential learning and global partnerships could help it develop this area."
Added Sowter: "Malaysian universities have witnessed exponential growth and remarkable achievements across the QS Rankings portfolio in recent years and a moderate overall drop in this edition shouldn't undermine its numerous and sustained successes.
"Its excellence is spotlighted this year by its average scores per institution which outshine most Asian countries in multiple areas."
Malaysia sees 28 universities ranked among the top 1,000 in the QS World University Rankings 2024. Of these, 11 climb up the table, 12 drop down and four rank for the first time.
Although there was slight overall decline with more universities dropping than rising, QS said Malaysia boasts Asia's highest average scores in 5/9 metrics which consider countries with 10 or more ranked universities.
The country's strongest selling points are that it "enjoys a highly diverse and international faculty and student body" as well as "flourishing reputation among international academics and employers".
However, it remains that Malaysia's success is less pronounced in QS' employer reputation indicator in which only UM is among the world top 100 (68th spot) while the country also sees one of its lowest average scores in producing influential, widely cited research.
"Universiti Teknologi PETRONAS (UTP) performs well for this indicator, placing 167th. However, a sharp drop-off sees no other Malaysian university rank among the top 400 for this indicator," noted QS.
While Malaysia 'struggles' to bridge the gap between its academia and industry, the National University of Singapore has broken into the Top 10 by ranking eighth. – June 28, 2023