DAP should reassess its promises and admit its mistake should its Malaysian Malaysia concept to do away with the Bumiputera quota or bringing back English as the official language is merely a propaganda.
While the spirit of "Malaysian Malaysia" by itself in principle is harmless as it intends for inclusiveness, MCA vice president Senator Datuk Seri Ti Lian Ker has questioned DAP's false promises via its Setapak Declaration which has cast insurmountable doubt and unease among grassroots Malays in both PAS and UMNO.
"In recent days, UMNO has called upon DAP to review its war cry of Malaysian Malaysia. This was said to have raised the suspicions and tensions of the Malays, in particular, references to DAP's promises of doing away with the quota and Bumiputera distinctions," the former youth and sports deputy minister pointed out in a statement.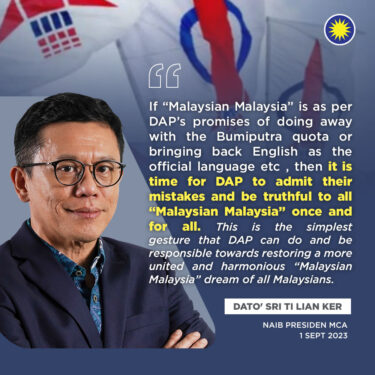 "DAP had had many other different declarations subsequently in an attempt to cover up their unreasonable demands which have proven to be out of time and not in sync with the political sentiments of today."
Recall that UMNO Supreme Council member Datuk Nur Jazlan Mohamed has recently raised concerns especially among UMNO grassroots who are "are still traumatised by the sentiments of the secular state and Malaysian Malaysia championed by DAP.
Ti further questioned other declarations by DAP such as "On Cultural Democracy" which among others seeks for the:
Abolition of the classification of "national" and "national-type" schools by giving equal treatment to all the four streams of education- Malay, English, Chinese and Tamil", and
Admission to Universities to be determined solely on the merit of basic educational qualification."
"It was also a DAP commitment that "Chinese and Tamil to be accepted as a medium of instruction as well as examination at primary and secondary levels, in all Chinese and Tamil-medium schools," asserted the Kuantan MCA division chief.
"The 'Cultural Democracy' also seeks to return the use of English as an official language and to promote usages of Tamil and Mandarin and allow them to be used in the state assemblies and the Parliament."
According to Ti, the onus is now on DAP to state its stance if "it is really true that the Malaysian Malaysia concept has contributed to the racial tension today?"
"If Malaysian Malaysia (truly) runs along the practices of the Alliance and as envisaged by the Alliance and Bapa Malaysia Tunku Abdul Rahman, then we should educate and elaborate this concept to all in the context of multi-ethnic, multi-racial and multi-cultural nation," opined Ti.
"(But) if Malaysian Malaysia is as per DAP's promises of doing away with the Bumiputera quota or bringing back English as the official language etc, then it is time for DAP to admit their mistakes and be truthful to all Malaysian Malaysia once and for all."
Added Ti: "This is the simplest gesture that DAP can do and be responsible towards restoring a more united and harmonious Malaysian Malaysia dream of all Malaysians." – Sept 2, 2023