HAVING crossed the line over and again even after repeated warnings, Home Minister Datuk Seri Saifuddin Nasution Ismail (main pic, second from left) has singled out Kedah caretaker menteri besar Datuk Seri Muhammad Sanusi Md Nor as one of the top violators in the fanning of insensitive 3R (race, religion and royalty) sentiments.
In his capacity as the Perikatan Nasional (PN) election director, Sanusi has on many occasions deliberately played deaf ears to calls by the power that be to abstain from touching on 3R matters – including the latest "final warning" by Prime Minister Datuk Seri Anwar Ibrahim.
"He has strayed far. He not only insulted the Sultan of Selangor but his political opponents as well. How can an Islamic leader who is supposed to defend the Al-Quran strayed so far?" the New Straits Times quoted Saifuddin as telling the media after the zakat wakalah handing over ceremony at the Penang state police contingent headquarters last night (July 14).
"It is becoming increasingly dangerous with majority of the people becoming uneasy. Even the Malay rulers have voiced their displeasure over such an action. As such, there is a need for stern action to be taken or such leader will never respect the royal institution."
Added the Pakatan Harapan (PH) and PKR secretary-general: "I will leave it to the wisdom of IGP (the Inspector General of Police) Tan Sri Razarudin Husain and his team to act accordingly. At the ministry level, we will always lend our support."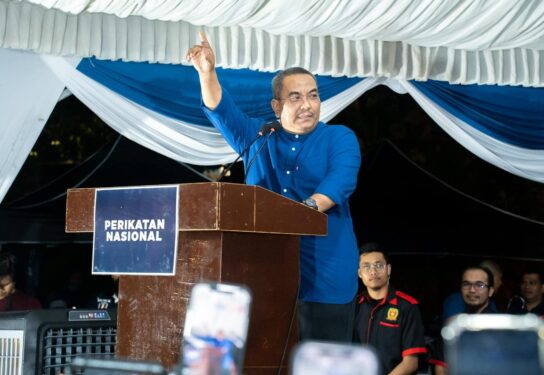 Saifuddin went on to reveal that the police have received almost 30 reports nationwide to-date against Sanusi who is also the Kedah PAS deputy commissioner for allegedly insulting the Sultan of Selangor, Sultan Sharafuddin Idris Shah.
(Editor's Note: Sanusi had reportedly drawn a comparison between the Kedah and Selangor sultans by saying that the Kedah ruler would not have appointed a "chow kia" (literally bad child in Hokkien) Datuk Seri Amirudin Shari as the Selangor Menteri Besar.)
He further noted that until recently, only the PAS Mursyidul Am Datuk Hashim Jasin had issued Sanusi who has been hailed as the party's warlord-cum-champion of Kedahans a reminder to refrain from doing so.
"However, PAS president Tan Sri Abdul Hadi Awang is silent on the matter. Does it mean he agrees with Sanusi? If not, why is he not ticking him off? No religion ever allows its followers to make fun and insult others," added.
Saifuddin also reiterated the unity government's stern stance against the overzealous incitement of 3R sentiments by political leaders when he told Free Malaysia Today (FMT): "It is no longer acceptable for PAS to remain silent as this may be perceived as an endorsement of Sanusi's offensive and insulting remarks against the Malay rulers."
According to him, the episode should serve to all as a warning that politics has limits, and one should not insult the Malay rulers who are highly respected figures of society.
Meanwhile, a Selangor Royal Council member has lodged a report over Sanusi's alleged insult of Sultan Sharafuddin Idris Shah.
Former Selangor Islamic Council chairman Datuk Setia Mohamad Adzib Mohd Isa in his report lodged at the Seksyen 6 Shah Alam police station claimed that Sanusi's alleged remarks could potentially trigger unrest, particularly in Selangor. – July 15, 2023
Main pic credit: Datuk Seri Saifuddin Nasution Ismail's Twitter