DESPITE the great hue and cry surrounding AirAsia's refunding policy, abrupt flight delays or even uncompensated cancellations in the guise of rescheduling, it seems that investors are least perturbed that those issues will have adverse impact on the budget carrier's share price.
This comes about as Maybank IB Research expects after a difficult FY2022, easing jet fuel prices coupled with higher fares and more aircraft having returned to service will culminate in Capital A Bhd – operator of the AirAsia fleet and sister airline to long-haul AirAsia X Bhd – to break even some time in 3Q 2023.
"We lift our FY2024E core net profit by RM84 mil on China re-opening its borders. This in an effort to lift its PN17 raises our SOP (sums-of-parts)-based target price to 90 sen from 84 sen," projected analyst Yin Shao Yang in a company update while reiterating the research house's "buy" call on Capital A.
"The major milestone to watch out for this year is the disposal of its aviation business to AirAsia X in an effort to lift its PN17 (Practice Note 17) status."
Recall that on Saturday (Jan 7), FocusM highlighted how a Malaysian couple was forced to tap their Amanah Saham Bumiputera (ASB) savings to cover their living expenses after being left stranded for five days in Melbourne following an AirAsia X's flight cancellation on Jan 2 prior to their flight home was resumed on Jan 6.
Their ordeal did not end there as they only had one meal daily on Jan 1 and 2 (since the money was floating due to the public holiday).
"We had called AirAsia Australia customer service (voicemail) and got no response till now. We filed a complaint to MAVCOM (Malaysian Aviation Commission) via Flysmart, and also to AirAsia on Twitter. Also, no feedback until now," the couple further related in their Twitter thread.
Nazt F. (@NazFarid) had earlier conveyed the ordeal encountered by him and his wife to Transport Minister Anthony Loke Siew Fook on Jan 4.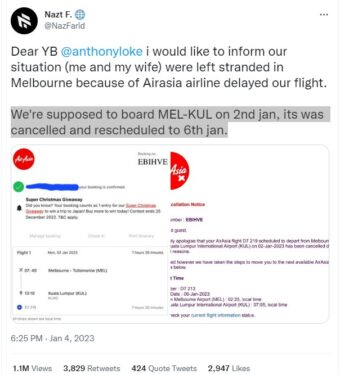 Interestingly, the Seremban MP had on Dec 27 insisted that Batik Air (formerly Malindo Air) should issue an apology and be held accountable for an eight-hour delay for a Kuching-bound flight from the Kuala Lumpur International Airport (KLIA) without proper assistance to its passengers.
This has prompted 'retaliation' from air travellers and even former MAVCOM aviation development director Germal Singh Khera who opined that it was unfair for Loke to rebuke only Batik Air for flight delays given similar problems have been occurring at greater frequency at AirAsia.
Nevertheless, Germal said that in most cases, the transport minister is not directly involved in the affairs of aviation operations.
These can be easily handled by the relevant regulatory authorities such as MAVCOM and the Civil Aviation Authority of Malaysia," he told the MalaysiaNow news portal. "(But) as a minister, he (Loke) should be fair to all parties. Why single out Batik Air? Why is there no mention of AirAsia delays and cancellations or refund issues? This is being biased." – Jan 9, 2023
Main pic credit: The Sun