"THIS year's Eid is less festive, meaningless without Dad by my side. Yana was deeply affected by what happened to Dad who had to celebrate Raya alone in prison. I sorely miss him" so penned Nooryana Najwa Najib on her Instagram page.
"Hopefully, Yana will be able to meet dad on the first day of Raya (April 22). Yana would also like to take this opportunity to wish everyone Selamat Hari Raya Aidilfitri."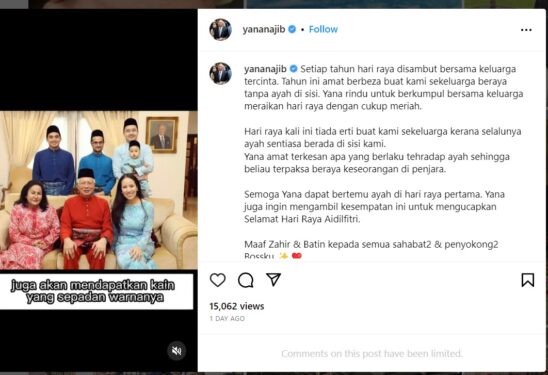 While her followers and loyalist of her father Datuk Seri Najib Razak showered her with sympathy – regretting the fate and injustice that has fallen the former premier who was convicted and sentenced to 12-year imprisonment and RM210 mil fine for absconding funds of RM42 mil belonging to SRC International Sdn Bhd – not every netizen share such sentiment.
Her emotional plea generated contrasting reactions on social media. While Najib enjoys a strong following on Facebook where many have expressed their support for his well-being and freedom from what they view as unjust legal proceedings, Twitter users have been less sympathetic and unforgiving, so to speak.
Interestingly, Nooryana's expression of sadness having to usher in this year's Raya in the absence of her father has been met with criticism and mockery on Twitter.
"Return back all your ill-gained properties to the people. Don't steal again. This is the outcome Face it," berated SatriaMalaysia (@adil_benar2020).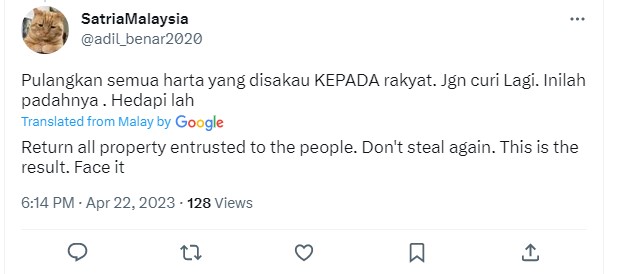 Teasingly, @daddydon (@daddydon65) told Nooryana that she will have a chance to meet Najib during the Raya prison visitation.
"Alhamdullillah, the prayers of Malaysians have been answered. He will spend his Raya in jail. There is biryani rice served in prison today because it's a special occasion. Don't be sad @yananajib because you can visit him on the third day of Raya, that is if you are not ashamed to meet your daddy @NajibRazak."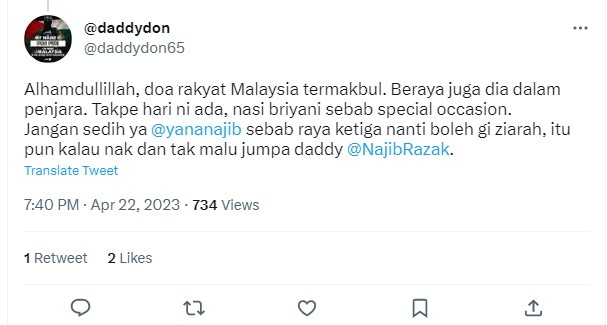 Some netizens went on to compare Nooryana's social media rants to that of Prime Minister (PM) Datuk Seri Anwar Ibrahim's family during his incarceration in Malaysian jails.
They never came online to rant about missing him (Anwar) or not having a good Raya, recalled some of these Twitter users.
Instead, the family, in particular wife and former Deputy PM Datuk Seri Wan Azizah Wan Ismail and eldest daughter Nurul Izzah leveraged social media networks to campaign for his freedom and the reformasi movement.
"Relax ahhhh …. Izzah (Nurul Izzah) and her siblings did not celebrate (Raya) with their father for 12 years. You're weak," netizen Anggun (@AnggunxXOXO) reminded Nooryana. – April 23, 2023